In Actuality
The regional ceremonies of launch in the circles of San and Macina (Ségou) and the circles of Mopti and Djenne (Mopti)
Following the extension of the program to the circles of Macina and San as well as those of Mopti and Djenné, the Technical Management Unit (UTGFS) of the program jigisemejiri organized regional launch ceremonies October 29 in the governorate of Ségou and October 31 at the regional health department of Mopti.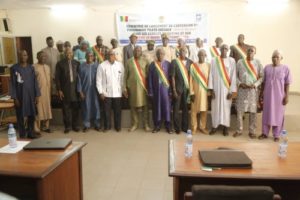 The purpose of these regional launching ceremonies was to inform and sensitize regional and local officials on the objectives, components and implementation conditions of the "jigisemejiri" program and to initiate the process of ownership.
The ceremonies were an opportunity to exchange and raise awareness about the institutional mechanisms of the national, regional and local program; to establish the collaborative relationship between the UTGFS and the mayors of the communes.
The national program coordinator recalled the context of the regional launch ceremonies, after explaining to community leaders, that this program needs all of its implications for its success.
"The program" jigisemejiri "has just received a second financing of about 30 billion CFA Francs; This amount will be used to expand the program horizontally. In the region of Mopti and Ségou, there are 4 new circles that will be added to the list of circles covered by the program. We will proceed with cash transfers, including accompanying measures to strengthen the human capital of poor children and then improve household resilience by initiating income-generating activities and supporting labor-intensive public works. . "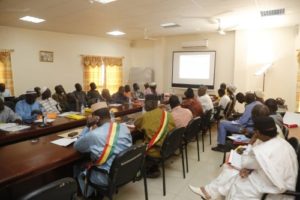 The mayor of the rural commune of Femayé in the circle of Djenné, Moussa Gouro Diall expressed his satisfaction: "We thank jigisemejiri, its technical and financial partners. We welcome the news as a breath of fresh air in the circle of Djenné and obviously all the municipalities that are concerned because it will support for 36 months our vulnerable populations. For us, this social safety net is extremely important for our people. "
Sidi DIARRA Mayor of SALOBA in the commune of Sarro also welcomed the program JIGISEMEJIRI in these terms "we are very happy to welcome JIGISEMEJIRI in our commune. We have long waited for this big day. We can only thank the State for this gift and wish good luck to the Jigisemejiri social safety net program "
It should be remembered that the regions of Ségou and Mopti have 5,000 new beneficiaries each out of the 25,000 beneficiaries added to the program. This will enable the program to exceed 100,000 cash-receiving households in Mali by the four-year horizon.
Source: Jigisemejiri