As every quarter, the national technical committee of the social safety net program Jigisemejiri organized its 18th ordinary session in the city of balanzans on September 26th, 27th and 28th, 2019 in the Kalanblo room of the Savane Motel in Segou.

The session was co-chaired by the coordinator of the "Jigisemejiri" program, the Regional Director of Social Development and Solidarity Economy of Ségou (DRDSES), the National Director of Social Protection and Solidarity Economy (DNPSES).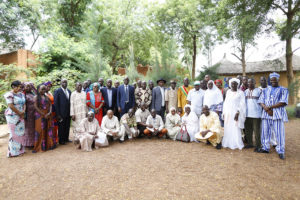 The objective of this 18th session was to review the activities of completion of initial funding and to identify the level of implementation of new funding as well as various ongoing collaborations. It marks the end of the first funding and the start of new funding for the second phase of the program.
The CTN is the technical body for the design, management, and supervision of the JIGISEMEJIRI Social Nets Program.
At the opening ceremony of the session, the representative of the governor of the region of Segou in his speech, welcomed the regularity in the quarterly organization of the sessions of the CTN program. He also said that the program will be very soon in the circle of Macina and Segou in addition to the circles of Bla, Tominian and Baraoueli.
The coordinator of Jigisemejiri recalled that this session was an opportunity to take stock of the activities: "in particular the work carried out by the program by component. To see the state of implementation of the various financing planned for the period 2019 – 2022. And then to take stock of certain aspects of collaboration that we have with the various partners, which are WFP, FAO, the World Bank and those who have followed the program financially over the four-year period. "
The National Agency for Medical Assistance (ANAM) represented by Dr. Hassane TANGARA explained the collaboration between jigisemejiri and ANAM in these terms: "We have a contribution in the implementation of the program. It's true, Jigisemejiri is a program against poverty, and we intervene in the framework of social protection. We offer care to jigisemejiri beneficiaries, who are registered in the jigisemejiri file. And we use this file to be able to register at the level of our structure. "
It should be noted that the results expected at the end of the 18th session of the TNC have been achieved overall, in particular the minutes of the 17th session of the TNC have been validated; the situation of financing closure activities (FA1) was presented and solutions were provided for the major bottlenecks encountered; the 2019-2023 perspectives of the program were shared; preparations for the annual meeting of COP 2020 were shared; and finally the actors were informed about the NEXUS processes, the Social Protection Floor, the Adaptive Social Protection and the RSU.
The session was marked by a football match between TNC and the CCR.
Source: Jigisemejiri